A kitchen is an essential place in our home, so everything should be perfect. Right from the critical stuff like appliances to surfaces and interior designs matter. You may or may not think of decorating it like other areas of your home, but professionals take this area seriously. And you should as well because whether you like it or not, you will spend almost half of your day in the kitchen preparing delicious food for your family. So, the interiors matter, therefore, we have come up with some of the best interior decoration ideas from the diaries of professional designers.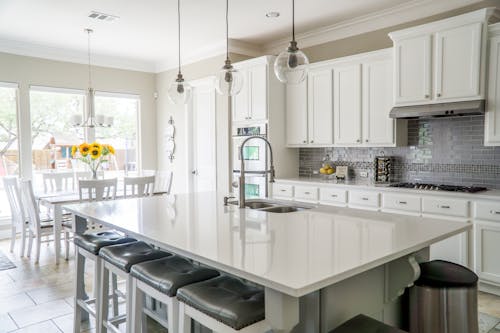 Interior Decoration Tips You Need To Design Kitchen Well
Kitchen Cabinets And It's Colour
Just like any other area of your house, the color of the kitchen also matters. So, decide the right tone as per the amount of the light enters into the kitchen. If it receives less light than use light colors to reflect more sunlight into the room and vice versa. However, only choosing the right color is not essential and also focuses on finishing.
Finish On Kitchen Cabinet
The kitchen is a featureless room, but adding a woody finish will not only make it exciting but add texture as well. You can pick from finish styles like matt, high-gloss, or mid-sheen. But choose as per the home style. For contemporary home style, choose a high-gloss finish. On the other hand, mid-sheen and matt finish is suitable for homes that are styled traditionally.
Besides adding finish to kitchen cabinets, you should also focus on other areas of the kitchen like doors. Wooden doors perfectly suit with high-gloss kitchen cabinets. Making your kitchen a beautiful room requires intense research. So, make sure that you do proper research before choosing colors and finish styles.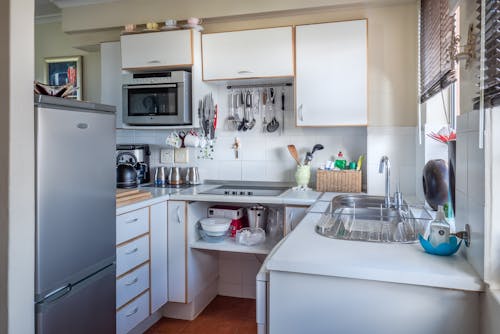 Design Of Cabinet
Of course, you can style your kitchen by adding good textures and colors, but it will enhance its look only when your cabinet is designed right. So, the next area to focus on is the design of kitchen cabinets. New homemakers have a chance to pick from different cabinet designs like a metal grate, double duty, skirted, pastel, and floating cabinets.
Other popular designs are chicken wire, lower cabinets, white-washed, fancy hardware, patterned, and corner cabinets.
Apart from these areas, little detailing in your kitchen is also a big part of the interior. A professional designer knows this secret, but those who are designing will miss the details. Therefore, we have come out with smaller features in the kitchen where you have to work.
Kitchen Details Matters For Good Interior Decoration
Check out the distance of cabinet tops to the ceilings. There should be enough distance between them to make cleaning easier.
Also, decide the storage space of appliances you will need less. Larder cabinet is a great space to fit those appliances.
You should also check the heights of the stack to fit the ovens and dishes easily. The height of stacks where you would store glass crockery should be more. Children should not reach those places.
In addition to this, also check the electrical points. Please make sure that they are where you want the points to be.
If you focus on these critical areas while designing the kitchen, then you would need no further changes in the future.